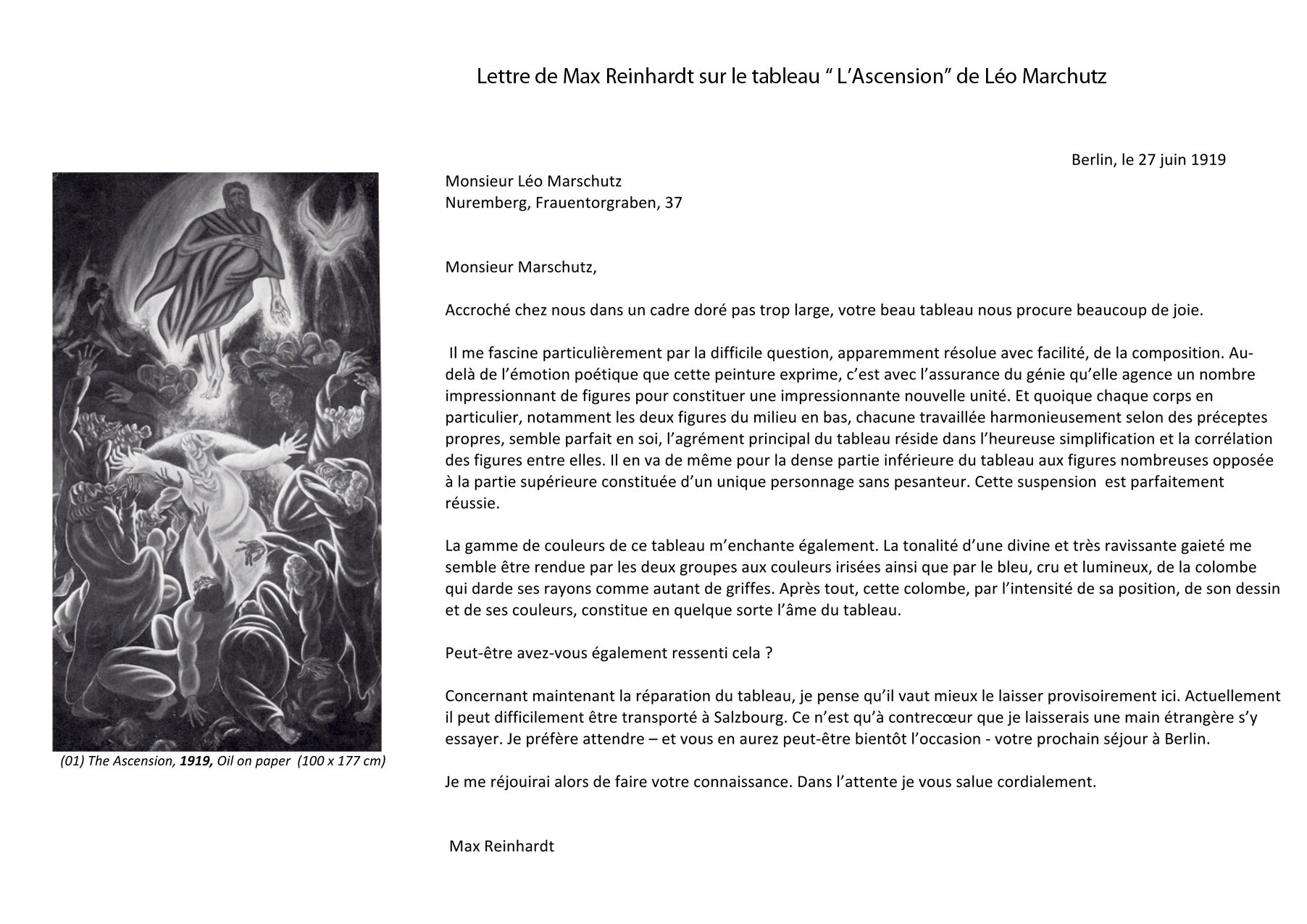 ---
Berlin, den 27 Juni 1919
Herrn Leo Marschütz
Nürnberg, Frauentorgraben 37
Sehr geehrter Herr Marschütz,
Ihr schönes Bild hängt in einem nicht zu breiten Goldrahmen bei uns und macht uns viel Freude.
Mich fesselt besonders daran die scheinbar so leicht gelöste schwierige Frage der Komposition. Hier ist nicht blos poetische Erregtheit malerisch ausgedrückt, sondern mit genialer Sicherheit eine erdrückend grosse Zahl von Figuren zu einer keineswegs erdrückenden neuen Einheit zusammenkomponiert. Und obwhol jeder einzelne Körper, namentlich die zwei mittleren unten, für sich harmonisch durchgearbeitet, mit eigenen Gesetzen, an sich vollkommen erscheinen, so liegt doch die Hauptfreude an dem Bild in der glücklichen Zusammenfassung und in der wechselnden Wirkung der Figuren unter einander, wie zwischen der schweren unteren Bildpartie mit den Vielen und der oberen mit dem vollkommen gewichtlosen Einen. Dieses Schweben ist so schön gelungen.
Auch an der Farbenskala in diesem Bild habe ich Freude. Ihre besonders reizvolle himmlisch-heitere Note sehe ich in den zweierlei Farbengruppen des Regenbogens sowie in dem harten, hellen Blau der Taube, die ihre Strahlen krallenartig herabsendet. Ueberhaupt ist diese Taube von grosser Intensität in Stellung, Zeichnung und Farbe, als wäre sie die Seele.
Vielleicht empfanden Sie das auch ?
Was nun die Reparatur des Bildes betrifft, so, glaube ich, ist es am besten, es vorläufig hier zu lassen. Nach Salzburg kann es unter den jetzigen Umständen schwer transportiert werden. Eine fremde Hand liesse ich nur ungern sich daran versuchen. So will ich lieber warten, bis Sie sich einmal – vielleicht haben Sie bald dazu Gelegenhait – hier in Berlin aufhalten sollten.
Ich werde mich dann auch freuen, Sie kennen zu lernen und grüsse Sie inzwischen herzlich.
Max Reinhardt.
---
Letter from Max Reinhardt to a young painter of sixteen
(in 1919 Max Reinhardt bought "The Ascension" by Leo Marchutz and wrote him the above letter.)
Dear Mr. Marchutz,
Your beautiful painting is now hanging on our walls in a not too large gilded frame, and gives us much joy.
I am mainly captivated by the seemingly easy resolution of the difficult problem of composition. Here is not poetic intuition expressed by pictorial means, but with genial assurance an oppressingly large number of figures brought together into a new and certainly not oppressing unit.
And although each single body, especially the two lower ones in the middle, has its own harmony with its proper laws and appears perfect in itself, the main pleasure of the painting lies in the happy configuration and the varying effects of the figures on one another, as in the harmony of the heavy lower part of the painting with the many figures, and the upper part with one absolutely weightless figure – this suspense is a beautiful achievement.
I like too the colors of the painting – your particular heaven-gay note I can see in the two-fold color groups of the rainbow and in the icy clear blue of the dove sending down her calw-like rays. This dove is especially intense in position, drawing and color, as if it were the soul.
Perhaps your felt the same way ?
Sincerely yours,
Max REINHARDT
---