Conference - June 14, 2023
Cezanne Research at Chateaunoir in the 1930's
Lionello Venturi, Fritz Novotny, Leo Marchutz and John Rewald
Chronicle and Memories
The following text is a written report of the conference I gave in Tholonet, then in Aix-en-Provence, in June 2023, at the initiative of the City of Tholonet and the Institute for American Universities (IAU) in Aix. This presentation is primarily based on documents left by Leo Marchutz and his friends. It focuses on Cezanne research that took place in the 1930's at Chateaunoir where Leo Marchutz was a permanent resident since 1931.
In no way is this an art historian's analysis of the contents of the exchanges, but rather a chronicle of those years, accompanied by first-hand accounts of those involved in these research efforts, or by their close friends and family. In other words: this is a chronicle supplemented with written testimonies.
Paris, August 2023, Antony Marschutz
Born in Nuremberg in 1903, Leo Marchutz, fascinated by the work of Paul Cezanne and Vincent Van Gogh, came to France for the first time in 1928. William Weyman, American painter, disciple, and friend of Leo Marchutz, wrote the following description of Leo's arrival at Chateaunoir in his book Leo and I and the Ghost of Cezanne. A memory of Art and Provence (Daedalus Gallery, Savannah, 2013):
"I believe I never told you how I first came to Aix and to le Chateaunoir. You know I was about eighteen when the Impressionist paintings were first exhibited in Germany. At that time my father was still trying to have me apprenticed to some master German artist, which as you know, I resisted. But on one such occasion in Berlin, we visited a Cezanne exhibition chez Paul Cassirer, and there I saw the paintings of Cezanne for the first time. I was especially taken with them. About the same time I had occasion to see other Impressionists' works as well as those of Van Gogh and Gauguin. This was the beginning of my determination to study on my own in the museums.
A few years later Anna Kraus and I became friends. She had a gallery in Munich, which I often visited, so she was aware of what had become my deep appreciation for Cezanne's paintings. On one of my visits, I discovered that she had in her possession a marvelous painting of the Mont Sainte Victoire, the one now in The Cleveland Museum. You can imagine my surprise, when she proposed to take me to Provence where Cezanne had worked. This was on the condition that she sold the painting.
Well, she did sell it, and apparently for a sizeable commission. So, Anna and I went to l'Estaque, where Cezanne did those marvelous paintings overlooking the town and the bay of Marseille. We stayed in a house that Anna had there, but after a short time in l'Estaque I realized its industrial atmosphere was not to my liking, so we left and went over to Cassis. There I did that small landscape, you know, the one that is now in the Musée Granet here in Aix. But I soon felt I needed to get closer to Cezanne's world, so we took the tramway up to Aix. This was 1928, so there were very few cars, mostly horse-drawn carriages and taxis. After arriving in town, we found ourselves on the Cours Mirabeau. In front of you favorite café, le Grillon, whom did I see? Cezanne's coachman. I recognized him having once seen a picture of him in a German art review. He was standing next to Cezanne in the photograph and he looked very much like him. I didn't speak much French then, but I managed to ask him to take us someplace where Cezanne had painted. He had his own taxi service, so he took us out on the Route du Tholonet, which was then unpaved and quite dusty.
When we reached a sharp bend in the road, the Mont Sainte Victoire suddenly appeared on the horizon. I couldn't contain myself: "Me voilà en pays connu!" (Here I am in familiar country!). Nature provided the image I knew so well in the painting that had brought me here.
What drew my eyes away from the mountain was a young man approaching on a white horse. He stopped briefly to greet the coachman, whom he evidently knew. He was wearing a monocle and affirmed his greeting by upping his hat, and then he rode on. The coachman turned to us and circled his forefinger around his temple to suggest that the young man was a bit crazy. I don't have to tell you who he was.
A bit farther down the road, we turned into a small wooden road leading to Chateaunoir. As we know, the coachman had often taken Cezanne to work there. I remember how strong the scent of pine was then. It was terribly hot and dry. We were introduced to the owner, Edith Vieil-Noë Tessier, Joël's mother and Poussy's grandmother. She was a very nice lady and not a bad sculptress. She had some pieces in the Louvre. Anyway, as we talked she mentioned that she had just finished renovating an apartment in the Chateau and wanted to know if we might be interested. That was the first time any consideration of settling in Aix had entered my mind, but it immediately appealed to me, and even more so after we saw the apartment. According to Madame Tessier it was situated where Cezanne had left his materials. Actually it was there where you are now living, but the space was divided up differently then. We didn't settle in for good until 1931. On a cold day in December 1934, Anna and I were married in le Tholonet. That was almost thirty years ago. It's hard to believe. Eventually, Anna and I divorced an March of '39 and she married the famous German American architect, Konrad Wachsman. Not long after that, Barbara Picton Warlow and I met in the café Deux Garçons. We were married in March of '40. Then Anna and Tony were born at the beginning of the war. Those were hard times. But that is another histoire."
In 1928, during his first visit to France, Leo met the American painter and writer Erle Loran Johnson, through the painter Marsden Hartley living at Chateaunoir. Both American painters came and were living in Aix-en-Provence because they were passionate about the work of Cezanne.
Marsden Hartley (1877-1943) came to paint at Chateaunoir, surrounded by Cezanne's landscape motifs, in the 1920s. When he went back to the States in 1929, he couldn't take all of his paintings back with him, so he left several of them to the son of the owner of the premises, telling him that if he didn't come back, he could dispose of them as he pleased. Hartley never returned to France and died in the US in 1943. The owner of Chateaunoir was thus able to dispose of the works, which were bought in the 1950's by the American art collector and friend of Leo's, Henry Pearlman, who then resold them in the States.
Erle Loran Johnson (1905-1999), American painter and art historian, lived in Aix for several years before returning to the United States in 1930. In 1943 he wrote the book Cezanne's Compositions, in which he compared Cezanne's paintings to photographs of their motifs. Prior to his book, he had written an article that was published in the French review "Arts" in 1932. Although Leo Marchutz and John Rewald were critical of the article, considering that the photos of Erle Loran had been modified to better mirror the works of Cezanne, they nonetheless took good note of his work and all throughout the 1930's they endeavored to locate and photograph Cezanne's motifs. This comparison between artwork and motif was the main objective of their research during those years.
Furthermore, in Berlin during the 1920's, Leo had met Karl Ernst Osthaus. This collector and gallery owner, who had visited Cezanne in Aix-en-Provence in the summer of 1906, a few months before his death, told Leo what Cezanne had said concerning perspective: "I seek to render perspective through color." This point is one of the keys to the research work of the Germanic trio (Leo Marchutz, Fritz Novotny and John Rewald) and one of the fundamental points of their thesis writings: perspective rendered by color replaces scientific perspective.
In her book John Rewald, Art History and Photography (L'échoppe, Paris, 2005), Alice Bellony, John Rewald's second wife, relates John's arrival at Chateaunoir:
"During spring of 1933, wandering through Aix-en-Provence with his backpack, John Rewald met his destiny. Like in certain operas, it had taken on the appearance of a group of young Germans. (…) The meeting took place in front of the moss-covered fountain located in the middle of the Cours Mirabeau, where the group had agreed to meet before returning to their homes. The traveler enthusiastically followed his new acquaintances on the road to Tholonet until they reached Chateaunoir. (…) It was precisely because of Cezanne that these German painters, four or five at any given time, had decided to live there. One of them, the oldest, Leo Marchutz (1903-1976), had a boundless admiration for the Master of Aix and his contagious passion had attracted a few friends. They had founded a kind of small "hippie community" before hippies existed and tried to live off the land, growing vegetables, raising chickens and rabbits while waiting for irregular allowances from their families. (…)
Meeting Leo Marchutz would be a turning point. John was quickly won over by his companion's admiration for Cezanne; he succumbed without restraint to the primitive beauty of Chateaunoir, to the luminous countryside of Aix, to the intriguing beauty of the Montagne Sainte Victoire, which sometimes appeared as a bluish triangle. If he discovered the world of Cezanne thanks to the enthusiasm of his friends, he brought them in return a rare and precious object: a Leica, the most cutting-edge camera of the time, ignored by most painters of the band. (…)
Receptive and full of energy, John walked with Leo Marchutz – who was surprisingly familiar with the work of Cezanne – through the surroundings of Chateaunoir, near and far. Together they discovered the motifs of the master, the red quarry of Bibémus, they walked in Bellevue, climbed up to the Zola dam and strolled along the banks of the Arc river, not far from the Jas de Bouffan, the family home of the artist. (…) When that first summer ended, Rewald returned to Paris a different man. Farewell to the cathedrals. During this stay in Aix, John had found a passion, a vocation, a homeland. The young man had left his native Germany at the beginning of 1932, where Nazi persecutions were beginning to take hold" (…)
In an article, "The Last Motifs in Aix", written for the catalog of the exhibition Cezanne, the Later Years (1895-1906), which was held in Paris at the Grand Palais from April to July 1978, John Rewald remembers:
"I went to Aix for the first time at the end of spring 1933 and met the painter Leo Marchutz there, who had lived in Château-Noir for several years. He had a copy of The Arts Magazine dated April 1930, which contained an article by Erle Loran [Johnson] called "Cezanne's Country", which included the first photographs of the landscapes painted by the artist. Marchutz had identified a number of sites on his own, including those in and around Château-Noir. He asked me to take photographs with the Leica I had just acquired. Soon I settled in at Château-Noir and we undertook a systematic hunt for all of Cezanne's motifs in the region: in Aix, in l'Estaque, in Gardanne. We usually used bicycles that we often had to push in the stifling heat, because Cezanne liked to work in high places. The zoom lenses were not very powerful at the time and color film did not exist on the market. In many of my photos, the mass of the Sainte Victoire mountain appear too small compared to the foreground. We had very great difficulties with the quarry of Bibémus, where, it seems, they were still working after Cezanne had come to paint there. We could still find certain motifs there, but it was impossible for us to place ourselves at the exact spot where Cezanne did them (we had nevertheless decided not to retouch the photographs, as Erle Loran sometimes did in order to better match them with the landscapes of Cezanne). Since the Second World War, the quarry has again been exploited and the motifs of Cezanne have literally been demolished.
Until 1939, I spent several months a year in Aix, staying at Château-Noir, and traveling through the region with Leo Marchutz. I came there not only in summer, but also in spring before the leaves of the chestnut trees at Jas de Bouffan hid part of the landscapes that Cezanne had painted. Pines and cypresses, fortunately, do not change with the seasons. We sometimes got up at dawn and, while Marchutz kept watch and judged the results, I climbed the trees to prune a few branches in the forest of Château-Noir – despite the formal objections of the owner – in order to open up overgrown areas or clear the view of the buildings they were obstructing (since then, nature has reclaimed its rights). (…)
Lionello Venturi, who was then preparing the Catalogue Raisonné of Cezanne's work - published in 1936 - lent us photographs of little-known or unpublished works so that we could try to identify them. In return, we communicated to him the exact designations of places whenever possible.
In 1937 we communicated to our friend Fritz Novotny a list of all identified motifs, which he published in his book Cezanne und das Ende der wissenschaftlichen Perspektive (Cezanne and the end of scientific perspective) (Vienna, Scholl, 1938).
After the war, from 1947 on, I went back to Aix every year. In the meantime, Marchutz had moved into Maison Maria (in the park of Château-Noir), but we had to give up trying to find other motifs. Things changed quickly, forest fires devastated some sites, new constructions disfigured others. (…)
Leo Marchutz died in Aix in January 1976, at the age of seventy-three. We buried him in the countryside, in the cemetery of Le Tholonet, overlooking the Sainte-Victoire mountain. I owe him my fervor for Cezanne."
John Rewald
So from the summer of 1933, with Cézanne's work as their focus, an intense collaboration was established between the painter and the historian, who was soon joined by another art historian of Austrian origin, Fritz Novotny, a lecturer at the University of Vienna, who specialized in the Aix painter.
This budding collaboration was based on the many documents in the possession of art historian Lionello Venturi (1885-1961), author of the first Catalogue Raisonné of Cezanne's paintings (Paul Rosenberg, Paris, 1936). Leo Marchutz met Venturi for the first time in 1934 during his visit to Chateaunoir. The son of the art historian Adolfo Venturi, Lionello was one of 12 academics who, in 1931, refused to take an oath of loyalty to Mussolini's Fascist regime, thereby immediately losing his professorship. He went into exile in Paris, France, where he lived until 1939; he then emigrated to New York for the duration of the war. In 1945, having been rehabilitated, he returned to Rome, where he resumed university teaching until 1955. Throughout this period, he gave countless lectures and courses at universities in Paris, London and Cambridge, as well as in the United States, which he visited at least twice before emigrating there.
Among his numerous publications are notably Giorgione and Giorgionism (1913), Criticism and the Art of Leonardo da Vinci (1919), The Taste of the Primitives (1926), The History of Art Criticism (1936), Painting and Painters: How to Look at a Picture from Giotto to Chagall (1950) and many essays on Caravaggio, Modigliani, Cezanne, The French Impressionists, Rouault, Chagall, Severini, etc.
He also had extensive documentation on Cezanne, as he had undertaken to publish the Catalogue Raisonné of the paintings of the Aix master. This work, with the help of the publisher and art dealer Paul Rosenberg, was published in Paris in 1936.
On 9 May 1934, Leo Marchutz wrote to John Rewald, who was just starting his studies on Cezanne, how he saw their collaboration and research work:
"... I would like to remind you of what originally led me to research the motifs: for me, it was the pleasure of discovery inherent in seeing a photo of a Cezanne painting (if not the original) and the motif together. (...) In dealing with this material, you understandably came up with the idea of working on Cézanne yourself and, if possible, publishing a series of these photos and motifs, with the idea, admittedly accurate, that this would arouse some interest. (...)".
Then a few days later, on 11 May 1934, Leo added:
"...You have to study Cezanne's compositions more closely, if possible collect reproductions or make tracings, and then try to find the models for both the individual figures and the groups. As Cézanne rarely worked from models, and knowing that, for example, the male figure often depicted standing and with his back to one side, is due to Signorelli (Cezanne had a reproduction of a Berlin drawing by Signorelli in his studio), the models for numerous figures should be identified, whether by Poussin, Tintoretto, Signorelli or anyone else. (...)
Regarding the relationship with Lionello Venturi, in the same letter Marchutz states:
"...An idea suddenly occurred to me, which I would like to submit to you, even if at first it will seem absurd. I don't know whether the best thing would be to put yourself at Venturi's disposal, by coming to an agreement with him that would oblige you to carry out research for the identification of paintings and everything else that goes with it. (...) You will become acquainted with all the Cezannes identified, and first and foremost with the compositions. Art history, which you are ultimately writing your thesis for, will be more grateful to you if you identify the models used for Cezanne's compositions, perhaps even succeeding in proving that all the compositions are, so to speak, fantasies based on other works of art. (...)"
This collaboration gave rise to an intense cross-correspondence between 1933 and 1939, interrupted only by the war. The fundamental tool in this research work was a Leica camera - a rare and extremely expensive object - bought by John Rewald's father and used to photograph the motifs. The photographs were sent to Fritz Novotny, who made a copy and returned the original. The complete list of motifs identified in this way is published as an appendix to Novotny's thesis.
In the preface to this same thesis, published in 1938, Novotny summarizes the content of the work:
"In this dissertation two problems are discussed in a joint study. The first part deals with spatial conception in Cezanne's landscape paintings. In the second part, an attempt is made to bring together the forms of dismantling scientific perspective as they appear in Cezanne's work, in a form that has important consequences in terms of historical development, in order to compare them, in a short and succinct retrospective, with analogous phenomena that can be found in earlier periods of representational painting, i.e. from the art of Titian onwards."
He explains the contribution of the Marchutz/Rewald duo:
"My special thanks go to Leo Marchutz and John Rewald, without whose collaboration this study would not have been possible in its present form. The majority of Cezanne's landscape motifs, which are listed in the appendix, were identified by Leo Marchutz and John Rewald and photographed for the purposes of this work. I am indebted to them not only for this help, but also for a wide range of objective information and suggestions, especially during our shared contemplation of the landscape paintings of Provence and Northern France. Some of the motifs have already been published by John Rewald and Leo Marchutz in the form of comparisons between photographs and paintings, others are published here for the first time, and all the motifs identified so far have been compiled in the attached list."
Moreover, noting that none of Cezanne's landscapes displayed a human presence (unlike Van Gogh's), Novotny introduced the concept of Außermenschlichkeit, which he was to comment on extensively in all his writings. Außermenschlichkeit should be translated as "the exclusion of the human figure" rather than "dehumanization".
Initially, their research and comparisons led to the publication of three articles by Rewald and Marchutz:
- "Cezanne at Chateaunoir", L'Amour de l'Art, Paris, 1934
- "The Jas de Bouffan", in German, published in the magazine Forum IX, Berlin, 1935
- "Cezanne and Provence", Point, Paris, 1936
These exchanges were crucial to the completion of the two theses defended by the art historians:
- John Rewald, with his doctoral thesis at the Sorbonne, "Cezanne, his life, his work, his friendship for Zola", Editions Sedrowski, 1936, republished by Albin Michel in 1950.
- Fritz Novotny, "Cezanne und das Ende der wissentschaftliche Perspektive" (Cezanne and the End of Scientific Perspective), thesis defended at the University of Vienna in 1936, then published by Scholl in Vienna in 1938.
In September 1939, and again in May 1940, by decree of the French state, all German and Austrian nationals were considered enemies of France and were obliged to join refugee internment camps. German and Austrian nationals were condemned to dispersion. Marchutz went to the Camp des Milles, near Aix-en-Provence, to be interned there. At the end of 1939, he had enlisted as a préstataire, i.e. in a military corps of foreigners fighting on the side of the Allies. Given the state of disarray of the authorities and the crumbling of the Third Republic, Leo was released from his military obligations and authorized to return home, as his daughter Anna had just been born and his poultry farm was considered to be of national interest. Returning to Chateaunoir in October 1940, he was forced to hide for almost 4 years, sleeping in a converted chicken coop or in the caves above Chateaunoir, in order to avoid arrest and deportation. The Vichy police came looking for him several times at Chateaunoir: our mother, who was British and had forged French identity papers, protected him... and as he always said: "I was very lucky."
John Rewald was initially interned in a camp in Vierzon. With the help of Varian Frey and a French diplomat who knew his work, he managed to get released, travel to Aix and from there, immigrated to the United States. He was later supported by Alfred Barr, the Director of the Museum of Modern Art in New York (MoMa), who financed his early research work. Rewald settled permanently in the United States, where he went on to pursue a full career as a scholar and art historian.
English version by Denise Lemoine
BIBLIOGRAPHY
LEO MARCHUTZ
Bilingual monograph, 100 artwork reproductions
256 pages
Editions Imbernon, Marseilles, January 2006
ALICE BELLONY
John Rewald
History of Art and Photography
L'Echope, Paris, 2005
WILLIAM WEYMAN
Leo and I and the Ghost of Cézanne
A memory of Art and Provence
The Daedalus Gallery, Savanah Georgia, 2013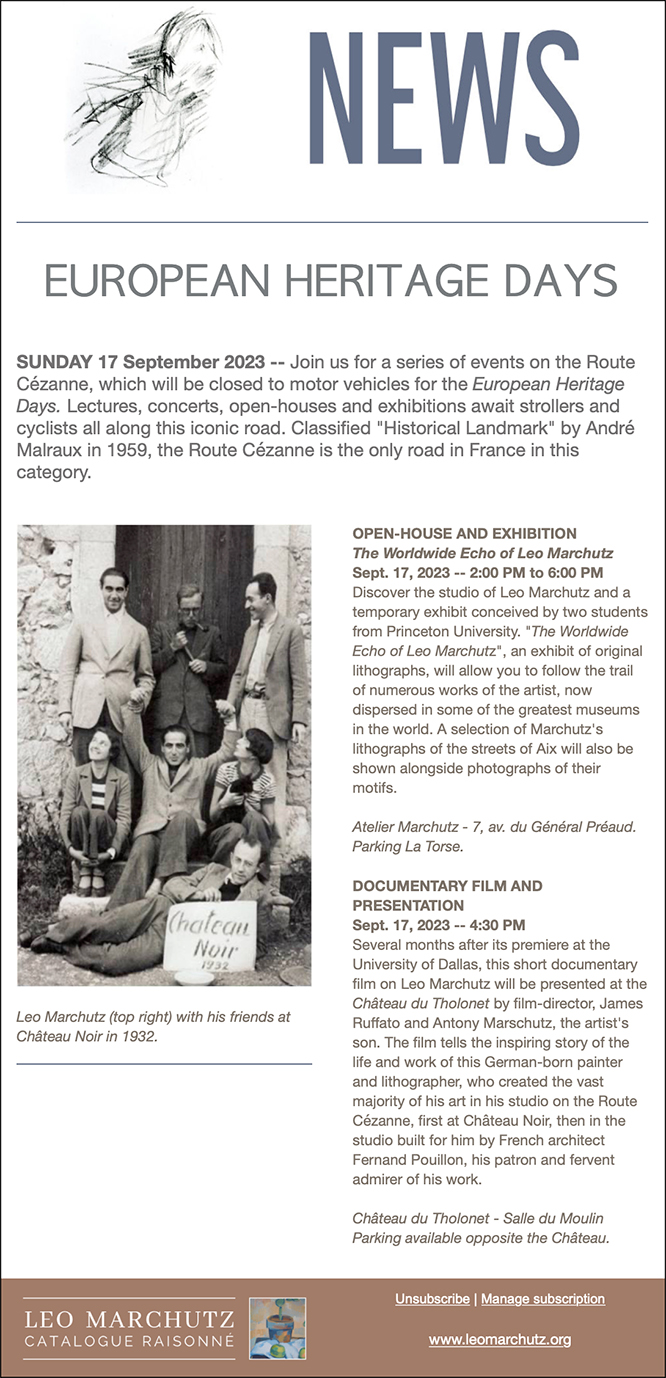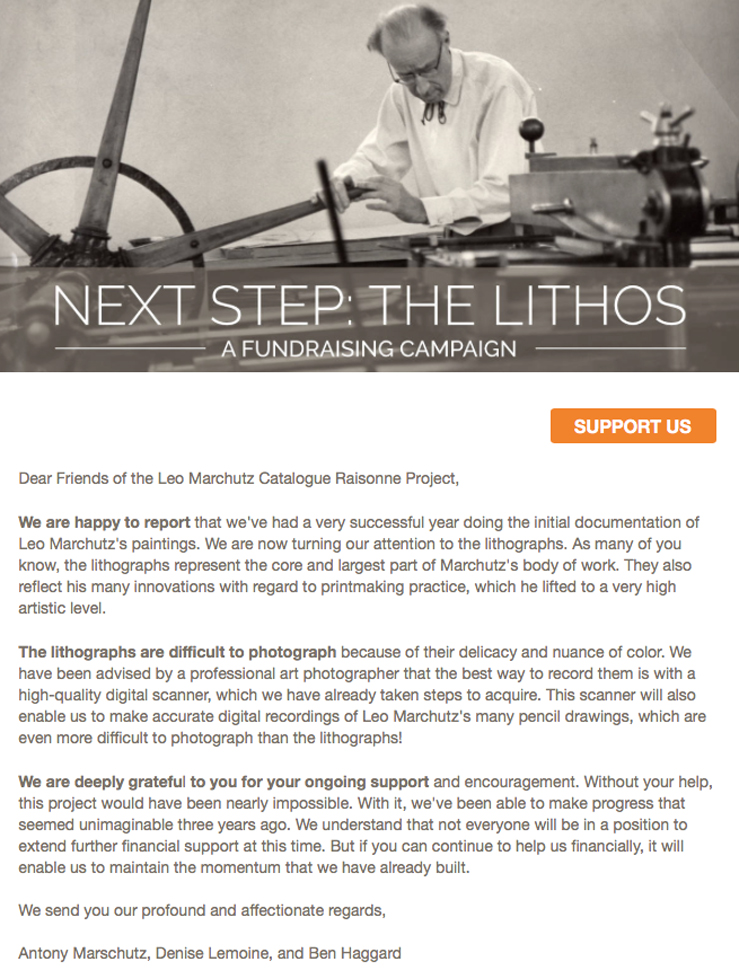 ..................................................................................................